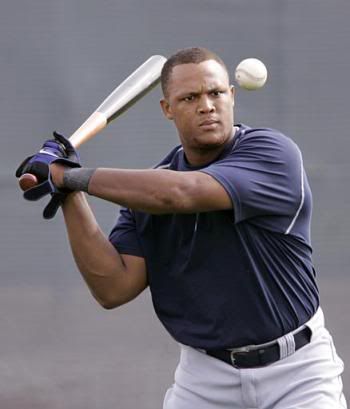 For all you fantasy geeks that would rather endure a Bea Arthur striptease than watch your former all-star vet suffer through another horrendous season, I have masterfully compiled the following list.
This list dutifully releases you of all hardship involved in making the perpetually difficult decision: hope for the best or drop for the rest? I'll make your decision for you…
1. ADRIAN BELTRE – Beltre is hitting an anemic .218 on the season with power numbers sagging across the board. What you may have missed is the fact that Beltre has swiped nine bags, nearly matching his output from the last two seasons combined. Some schmuck in your fantasy league will want Beltre the minute he hits two homeruns in a game, so stash him away for a trade deadline deal.
Verdict: KEEP HIM
2. LUIS CASTILLO – Is this guy infuriating or what? No doubt you drafted Castillo for his stolen bases, but fact of the matter is he doesn't run nearly as much as he used to. With declining stolen base totals each of the last three years (10 last year), Castillo serves little to no worth at the 2b position. Oh wait, he's batting .345 with 20 rbi's! Are you kidding?!? Do yourself a favor and trade him while he still has some value. Castillo has never had more than 47 rbi's in a season, so don't expect his pace for 90+ rbi's to be sustainable.
Verdict: TRADE HIM…IMMEDIATELY
3. MIKE SWEENEY – Oh Mike, I've drafted you in three fantasy leagues over the past two years…oh, sorry Mike, I've dropped you in all three of those fantasy leagues. Sweeney's days of .300+, 25+ hr, 85+ rbi are long gone. This guy has more health problems than Jack Bauer. With bulging discs and tight hammies and broken wrists and whatever else, Sweeney is not worth a roster spot.
Verdict: DROP HIM
4. SHAWN GREEN – Ever since the 'roid rage days of 2002, Greenie has prided himself on being thoroughly mediocre. In the last three years, he has averaged 23 homeruns and a .278 batting average, fitting in perfectly with the Raul Ibanez's of the outfield world. Those numbers are fine for a flex outfielder in mixed rotisserie formats, just don't fool yourself into thinking you've found a gem. Verdict: KEEP HIM
5. RAFAEL FURCAL – Furcal has struggled so far in his first year west of the Mississippi, but I can't remember a season in which he didn't struggle before June. Although his batting average and power numers are down, Furcal has totaled 29 runs and 9 sb's through the first six weeks, hardly numbers to complain about. You drafted Fookie for his stolen bases and in that regard he has come through.
Verdict: KEEP HIM
*note: a line in this post was changed to read "west of the Mississippi", rather than "west of the Mason-Dixon Line."