Fan favorite (and all-around good guy) Gabe Kapler has announced that he only has about a week of rehab left until he plays "real baseball" for the first time since tearing his Achilles' tendon last September. He talked about his experience coming back from the injury with the Boston Globe: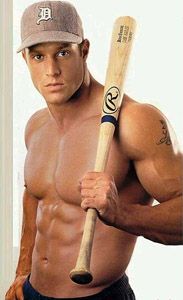 "There have been times I think I've handled this very well, and times I think I haven't," he explains. "It's been a constant evaluation and reevaluation. I believe everything that happens in life has an element of education to it. And this experience has been enormously educational."
He has taken, he says, a "spiritual path."

"It's not so much religious," he notes, "but in the sense that life has its twists and turns, and not to sound excessively corny, that life has a series of choices. So, how do we develop? How do we mature? How do we teach?"
What? Did you say something? I'm sorry, I, uh…just zoned out for a second. And I, uh…yeah. Oh! I have to go, I just remembered an urgent abdominals. Appointment! I meant to say appointment. Yes, a very pectoral engagement. Pressing engagement that is! I'm already very lats. Late! I'm very late. And I should just go. Uh. yeah.