In my last entry, I listed five guys who would be on the DL before the All-Star break. Since the article was posted, three players have already been stricken by the injury bug. Gary Sheffield and Kerry Wood have both been placed on the 15-day DL and Barry Bonds has missed five straight games with a sore left side. In this column, I have listed five more players that present intermediate injury risks to your fantasy team. Proceed at your own risk.
J.D. DREW
If you were to start a Fantasy Injury League, Drew would be a top-three pick. J.D. has missed 27 games or more in six of his seven full professional seasons. On average, Drew misses approximately a month per season and consistently breaks fantasy owners' hearts with lingering hamstring pulls. It's only a matter of time until Drew blows a gasket again this season and hampers your fantasy team's stretch run. He's been posting great numbers this season, so try to work a trade with another owner and get market value from a less-risky outfielder.
JAKE PEAVY
The damage may have already been done to Jake Peavy. By looking at his numbers this season, one could assume that Peavy is pitching hurt and just doesn't want to admit it. At 4-7 with a 4.96 ERA, Peavy is nowhere near his form from the 2004 and 2005 campaigns in which he posted a combined record of 28-13 with an ERA hovering around 2.50. It's possible that Peavy is pitching through pain to help his Padres stay in the NL West race – an unselfish but extremely dangerous notion. Be weary of Peavy's progress and check-up on his health regularly.
JOHN SMOLTZ
Smoltz is currently on-pace to pitch 229 innings, the same number of innings that he pitched last season…a season in which he admittedly ran out of gas in September, took a few weeks off and struggled to get ready for the postseason. It's important to remember that Smoltz isn't getting any younger and that, if he were to pitch 229 innings again, he would assumedly encounter the same arm-fatigue that he experienced last year. Although Bobby Cox had intended to limit Smoltz at the beginning of the season, the Braves are struggling to stay in the race for the NL East and Smoltz has been doing everything within his power to keep the Braves in the hunt. Because Smoltz is logging a lot of innings, expect fatigue and arm soreness to limit him before the end of the season.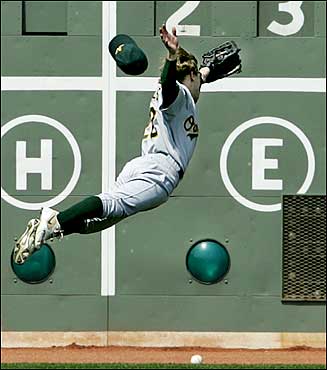 ERIC BYRNES
Byrnes isn't exactly injury prone, but he plays with such reckless abandon that he's bound to get hurt at some point during the season. Don't get me wrong – I love his work ethic, hustle, and attitude. There aren't many players who wear their hearts on their sleeves like Byrnes does. However, if I were to guess which outfielder would be the next to impersonate Aaron Rowand and run head-first into a chain-link fence, I would have to guess Eric Byrnes. It's that type of effort and overexertion that is certain to land Byrnes on the DL at some point this season.
KEN GRIFFEY, JR.
Need you an explanation?
He will get hurt and you know it. Sad but true.