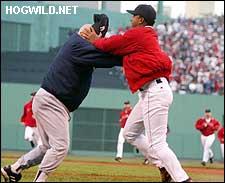 This is the kind of thing that doesn't happen nearly often enough in baseball. According to ESPN.com, Blue Jays manager John Gibbons challenged 3B Shea Hillenbrand to a fight shortly before the Jays cut Hillenbrand on Wednesday.
Gibbons has acknowledged that he challenged Hillenbrand to a fight, saying, "He had a chance yesterday to defend himself in front of his coaches and his teammates. He chose not to."
Apparently, Hillenbrand had gotten in the habbit of writing inspirational messages on the team bulletin board, the most recent of which said, "The ship is sinking." Gibbons didn't take kindly to the sentiment.
If the front office felt differently than he wins and I lose, and I would be the one out of here," Gibbons said. "I mean it. It was either him or me."

Asked if Hillenbrand did it because he wanted out, Gibbons said: "I know he wanted to get out. That's no secret. To be honest I don't think he really wanted to be here for the last two years."

"You're either with us or you're not," he said. "He got his wish. It's that simple."
The only thing that could have made this story any better is if Hillenbrand and Gibbons actually did duke it out, a la Rocky vs. Tommy Gun in Rocky V.
And the prospect of a dugout brawl got me thinking: what other baseball players would I like to see come to blows? Of course, there will never be another Pedro vs. Zimmerman. But here's a list of fights that would be fun to watch:
1. A-Rod vs. Curt Schilling. I don't particularly care for A-Rod. He's always seemed like a guy who takes himself just a little too seriously. But if A-Rod strapped on a set and beat the snot out of Curt, and then winked at the portly pitcher as he was lying on the ground, bleeding profusely from his anke, I think I would like him a lot more. A LOT MORE.
2. David Wells vs. Bob Wickman. Because, I'm pretty sure they're the same person. It would be just like watching the Coors Light twins slap each other around, except, you know, totally different, because these are fat, bald men with awful facial hair.
3. Barry Bonds vs. Ken Griffey Jr. Griffey takes Bonds to task for ruining the game and stealing his spotlight. "I should have been the greatest!" Griffey screams at Bonds as he sweeps Bonds' leg and delivers a flying elbow to Bonds' chest cavity.
Which baseball fights would you like to see happen?