Did anyone ever tell you, you look like a penis with that little hat on? — Jimmy Dugan, "A League of Their Own."
I'm watching the Oakland-Detroit game. It's game 3 in Detroit. The Tigers are up 2-0 in the series and in the game.
The announcer is talking about how Kenny Rogers grew up in Plant City (the Strawberry capital of the world), went to Plant City High School and played for the Planters, and that during harvesting season he would miss school to pick strawberries.
"I bet he probably hates strawberries," the color commentator chimes in.
This is fascinating banter. But I am having a tough time really appreciating it. I find that I'm distracted by A's short stop Marko Scutaro, who is wearing a ski cap over his baseball cap. It's a green ski cap with the yellow "A" on it.
This is the first time I've ever seen a player wear a ski cap in a baseball game. Frankly, I'm shocked that MLB allowed it. It's just…I dunno…there are no words. It's disorienting, that's what it is.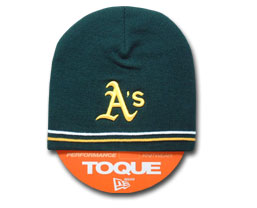 Currently, it's 45 degrees and windy in Detroit. It's supposed to go down to 35 degrees later in the evening. That's cold, but not freezing. It's warm enough that most of the other players are still wearing short sleeves.
I can't find a photo of Scutaro wearing the cap, but it's early. I'm sure somebody will post one eventually. And when they do…bam! I'll update this post so fast it'll make your head spin. So stay tuned.