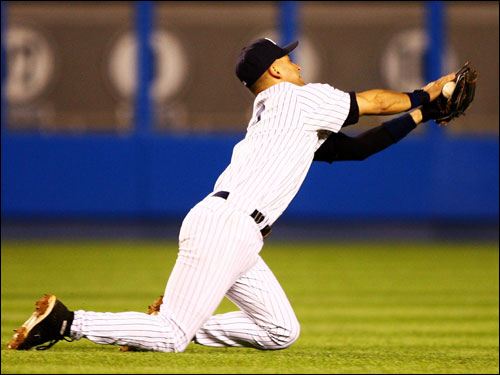 Thank god that in these topsy-turvy times, when real journalism has been replaced by infotainment and more Americans are getting their news from the O'Reilly Factor and The Spin Zone than from the newspaper, we have the Boston media to give us straighforward, unbiased critiques. 
This week, Boston Herald columnist Tony Massaroti is taking MLB to task for awarding Derek Jeter a gold glove award. Massaroti points out that he is a HUGE Jeter fan (he freakin' loves that guy), but then proceeds to argue that Jeter was in no way the best shortstop in the AL this season. Who was, according to Masseroti? Sox shortstop Alex Gonzalez, of course.
Don't misunderstand. In many corners – including this one – Jeter is the best player in all of baseball, because there is not a single aspect of the game in which he is rated anything less than above-average. But when coaches and managers fail to recognize that Jeter is an inferior defensive player to someone such as Gonzalez, it reeks of politics and/or awarding honors based on reputation rather than the cold, hard facts, which in this case clearly pointed to the shortstop of the Red Sox.
Okay, fair enough. Hard to argue with facts. Facts, after all, are facts. But does Masseroti offer any facts to support his argument that Gonzalez was a better fielder in 2006 than Jeter? Noooo. That would be just a little too much to ask.
Instead, Massaroti suggests "Gonzalez might have been hurt some by the fact that he played in only 111 games." Hey, wait, "THE FACT that he played in only 111 games" — that's a fact! And you know what? That's generally how it works. You miss 1/3 of the season and you risk missing out on awards. Sorry Alex.
Massaroti goes on to call people who praise Jeter's defense "ridiculous."
Jeter's defense has been rather consistent over the past six seasons, during which he has committed no fewer than 13 errors and no more than 15. But the fact that he has won the last three suggests a drop at the position more than it does an improvement in his play.
Holy crap, was that another fact? 14 errors per season? That's pretty good, right? Not Ripken-esque, but not bad…right?
Claiming that there has been a "drop at the position" seems irrelevant. That Jeter's competition for the gold glove wasn't as stiff this season as it was three years ago, when he went up against younger Nomar, A-Rod and Vizquel, doesn't really matter, does it? So Jeter isn't the best ever. He was the best in 2006. And that's what we're talking about, right?
Boston needs to get over their Jeter-complex. Because if they're gonna get their panties in wad over this, they're really gonna be pissed when he wins the MVP.