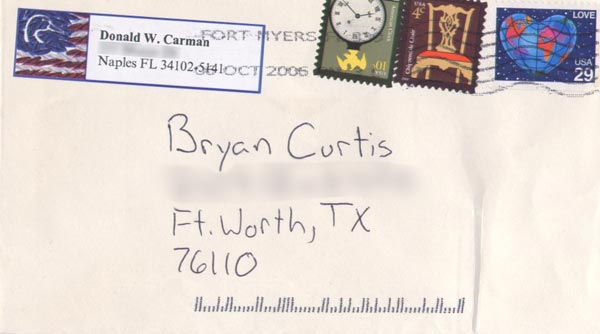 Slate has a great feature today on retired Phillies SP Don Carman, who recently discovered a bag of unanswered 15 year-old fan mail in his garage and promptly went to work responding to the letters.
"My wife told me it was time to clean the garage," Carman said. "So, I started digging through the stuff and found a box behind my tools. I opened it up and saw it was a bunch of fan mail, 200 to 250 letters."
The Slate piece was written by Bryan Curtis, who is one of the people to whom Carman sent a belated response. Curtis had asked Carman to sign a baseball card.
When I got my hands on the envelope, it immediately became one of my favorite possessions. To look at my penmanship is to see a child who has labored just to write his Fort Worth, Texas, return address in a straight line. The envelope has a brown rectangular stain where a baseball card rested against it for years. Carman has affixed his return-address label—he lives in Naples, Fla.—and, touchingly, added additional postage, since I had included a then-current 29-cent stamp. The card, No. 154 in the 1989 Topps set, bears his big, looping signature, signed with a bright-blue Sharpie.
Curtis says he originally asked Carman for a signature figuring he had a good chance of getting a response, since Carman was just an average player and probably not bogged down by fan mail.
As Curtis points out, Carman had a solid, if unspectacular, career. And he is probably best known for compiling a list of 37 responses to questions that a reporter might ask. The list was kind of a knock off of the scene in the movie Bull Durham, where Crash Davis teaches Nuke Laloosh how to give a cliche-filled interview. Quotes from Carman's list included, "You saw it…write it," "I did my best and that's all I can do," "The all-star voting is a joke," and "They don't pay me to hit." Carman probably got a lot of use out of that last one. He was one of the worst hitters in baseball during his career. In 1988 he went 3 for 63 with three walks. In 1989 he went 1 for 34 with no walks. And it wasn't just his stats. When Carman swung the bat, it was absolutely pathetic. Nobody has ever looked so out of place at the plate.
The Slate story really is great. I encourage you to read it if you get a chance. It's nice to read about players (even retired pitchers who couldn't hit) who respect the fans. I don't know about you, but when I read a story about someone like Carman, it renews my faith in baseball players. And it makes me wonder how it's possible for a completely average guy like Carman to treat the game with such respect, while a truly great player (who grew up the son of a very good player) like Barry Bonds can consistantly treat the game like it owes him something.
There was only one dissapointment with the Slate story: the revelation that since his retirement Carman has gone to work for Scott Boras. Ewww.