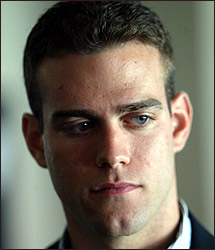 There's a piece in today's New York Times that should shed some light on whether or not the Red Sox are evil.
They are.
According to the Times, GMs from several teams are accusing the Red Sox of breaking the rules when it comes to signing free agents:
Exhibit A for the disgruntled is Boston's signing of J. D. Drew, who walked away from the final three years of his contract with the Los Angeles Dodgers, a move that his agent, Scott Boras, said was aboveboard and precipitated by the marketplace. The signing of Drew could lead to an investigation by the commissioner's office into possible tampering by the Red Sox; one baseball official said the commissioner's office would vigorously investigate the matter if it received a complaint, but added that no complaint has been forthcoming.
Did the Sox tamper with J.D. Drew? Almost certainly. It is really, really hard to believe that the oft-injured Drew chose to opt out of three years and $33 million without some assurance that he would get more elsewhere. Plus, Drew seemed happy in LA.
Six days before the end of the season, Drew told Bill Plunkett of The Orange County Register that he was happy in Los Angeles and had not thought about the opt-out clause. He said he did not plan to use it.

"At some point," he remarked, "you make those commitments and you stick to them."
Ha! J.D. Drew is all about making commitments. He has been committed, since the day he was drafted, to making as much money as possible, win or lose. I hate that guy.
But the complaints don't end with Drew. Don't forget about Matsuzaki, who the Sox haven't even signed yet:
Club executives and baseball officials are also watching the Red Sox negotiations with Boras for Daisuke Matsuzaka, the Japanese pitcher, for whom Boston bid $51.1 million just for the right to talk to him.

They have observed as Larry Lucchino, the Red Sox chief executive, recently went to Japan to meet with Matsuzaka's team, the Seibu Lions, for the stated purpose of establishing a working agreement between the teams. They have read with interest Boras's view that there is no rule barring the Lions from sharing part of the posting fee with the player, thus making it easier for the Red Sox to sign him for less of their own money.
Now, I'm not one to speculate. But a more cynical person might be inclined to think that Boras and the Sox have an under the table agreement and that Boras told the Sox that he could hook them up with Matsuzaka, but he'd be more inclined to do so if they stepped up and overpaid J.D. Drew. And since the Sox had been interested in Drew for a while anyway, and since the team needed a new right fielder, it all made sense. If one were really cynical, one might even think that Boras promised the Sox that if they bid a ridiculous amount for Matsuzaka, that the Seibu Lions would turn around and share some of that money with Matsuzaka, thereby reducing the need for the Sox to sign the star Japanese pitcher to a huge, expensive contract.
Of course, I don't think that's what happened, because I'm not a cynical person. But plenty of people around baseball are not so sure.