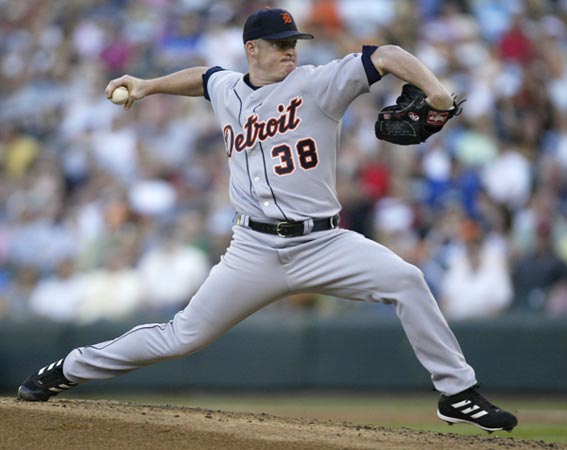 The Detroit Tigers took a good look around. They saw what other pitchers were getting paid on the free-agent market. And they decided they didn't want to find out how much Jeremy Bonderman would make when became a free agent after the 2007 season. So they signed their hard-throwing SP to a contract extension.
MLB.com writer Mike Bauman thinks the Tigers got a bargain.
Now Phillies GM Pat Gillick says his team is getting ready to do the same for SP Brett Myers, 2B Chase Utley and 1B Ryan "MVP" Howard.
All of which begs the question: is it EVER a bad idea to sign players to extensions before they hit free agency? I say: short answer no, with a but; long answer yes, with a however.
NO, it's never a bad idea to sign a good player to a contract extention, BUT you need to make sure the player is actually a good player.  
YES, it can be a bad idea if you sign a dud to a huge deal; HOWEVER, if you are careful to wrap up your key players before they hit the market, you will save big money in the long run.
When the Cardinals signed Albert Pujols to a seven-year $100 million contract before the 2004 season, that seemed like a lot of money. But after Vernon Wells got paid $126 million over seven years and Alfonso Soriano got $136 million over eight years, Pujols all of a sudden looks like a bargain. Can you imagine how much money he would get if he were on the market right now? Think $200 million plus.
I apologize for switching sports here (something we almost never do at Umpbump), but there is simply no better example of a contract extension-happy GM than Philadelphia 76ers GM Billy King, who has signed a bethy of average young players to big deals over the years(Willie Green, Kyle Korver, Sam Dalembert), only to leave his team with a bunch of expensive, mediocre players. King's crowning achievement was signing SF Kenny Thomas to a big, long contract, only to discover that Thomas wasn't worthy of being a starter, let alone an all-star. Now Thomas gets paid to sit on Sacremento's bench. The Sixers traded him for Chris Webber, who is making $22 million per this year and next to hobble back and forth between the baskets.
Bad contracts are even more deadly in basketball, of course, because rosters are smaller and the NBA has an unforgiving salary cap. But the lesson also applies to baseball, especially to small market teams who can't afford to eat bad contracts the way the Yankees and Red Sox do.
So is it good to lock up players with contract extensions? I guess the answer is, "it depends."
Young players you do want to build around: Bonderman, Utley, Howard, Papelbon, Hanley Ramirez.
Young players you might not want to throw money at just yet: Prince Fielder (genetics are not on his side), Willie Taveras (he doesn't even steal bases), Jered Weaver (he's a Weaver), Freddy Sanchez (no power, avg. speed).