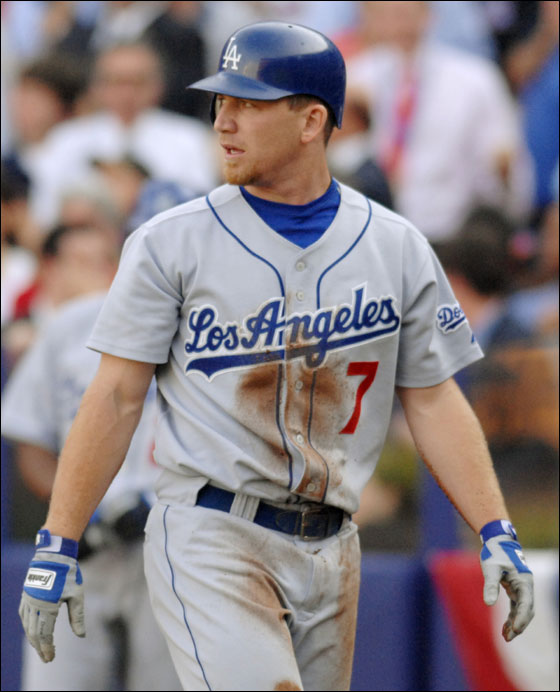 Come on Boston, it's fun to despise J.D. Drew. So what are you waiting for?
As L.A. Times baseball writer Steve Henson points out, Drew has been a bust so far this season, but the fans are treating him with kid gloves.
From the L.A. Times:
Boston fans and the media have been gentle on Drew so far, undoubtedly because the team is doing so well everyone is accentuating the positive. If the Red Sox go on a slide and a search for scapegoats begins, Drew will be an obvious target.
Why wait? Heckling J.D. is one of life's great joys. It's not like Drew hasn't sucked hard enough. He hasn't even played as well as the Luis Gonzalez, the aging stiff the Dodgers brought in to replace him. And Drew costs a lot more than Gonzo. Drew is making $14.4 million this season, the first of a five-year, $70-million deal. Gonzalez is costing the Dodgers $7.35 million.
Gonzalez: In 50 games, 50 hits in 172 at-bats, with eight doubles, six homers, 20 RBIs and 27 runs. He's batting .291, with a .381 on-base percentage and .453 slugging percentage.

Drew: In 46 games, 35 hits in 155 at-bats, with six doubles, two homers, 17 RBIs and 28 runs. He's batting .226 with a .346 on-base percentage and .316 slugging percentage.
Jason Stark points out that, it's easy to hate on Drew, because he manages to fail despite being so undeniably talented.
From ESPN.com:
Nobody denies that Drew has massive talent oozing out of his eyebrows. You can tell because he entered this season as one of only 13 active players with a career slugging percentage over .500 and an on-base percentage over .390.

But now the bad news: Those other dozen players have made a combined 70 All-Star teams (and all have made at least two apiece). And Drew has made, well, zero.
First of all, Jayson, "talent oozing out of his eyebrows"? Really? Did you spend all night coming up with that line?
Stark's prose deficiencies aside, there's no ignoring Drew's consistent inability to  separate himself from the pack. He's been getting paid tens of millions of dollars from day one, based on his talent. But the return on those investments has always been lacking.
In Philadelphia, we dislike J.D. so much we throw stuff at him. As far as I can tell, they don't do giveaways in Beantown. I'm fairly certain my Boston friends would tell me that's because they have a historic stadium and a first place team and don't need to lure fans to games with cheap crap. Be that as it may, that still creates a dillemma: what's a Drew-hater to throw?  You can't throw a cup of beer. Those things cost like $20 and one shouldn't waste beer. You don't want to injure him, so  coins and dangerously sharp Fenway Franks are out.
I suggest bringing balloons to the game and filling them up with water in the restroom. You can smuggle the balloons in your socks, no problem. And there's really nothing funnier than an underachieving, oxygen tent dwelling, contract voider getting hit by a water balloon.