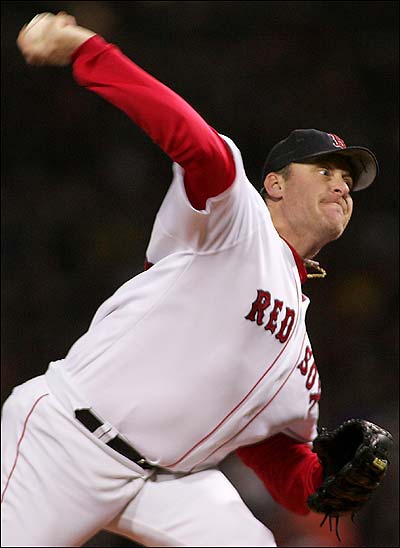 Curt Schilling came oh so close to a no-hitter today. But Shannon Stewart broke it up when he singled to right with two outs in the ninth.
Schilling was crushed. Boston was bummed. And Julio Lugo was (no doubt) relieved.
I mean, he must have been, right? Because if Schilling had recorded that last out, the following sentence would have appeared in every newspaper in America tomorrow:
Schilling's no-hitter would have been a perfect game, but Dan Johnson reached base in the fifth inning on a fielding error by Julio Lugo.
No position player wants to make the error that proves to be the difference between a no-hitter and a perfect game. Lugo REALLY didn't want to make that error. He's had a tough act to follow, after Sox fans spent a year watching Alex "greatest ever" Gonzalez throw guys out from his knees. Lugo didn't need to give Sox fans one more reason to complain about him. He lucked out today.
On an unrelated note, Schilling probably feels like he's never going to get that no-no. The pitch that Steward hit was a fastball. Sox catcher Jason Varitek called for a slider, but Schilling shook him off.
"We get two outs, and I was sure, and I had a plan, and I shook Tek off," Schilling said. "And I get a big `What if?' for the rest of my life."
This was Schilling's third one-hitter. Probably the closest he'd come to a no-hitter before today was in 2001, when he came within five outs of a perfect game while pitching for the Diamondbacks against the Padres. But San Diego catcher Ben Davis ruined his gem with a bunt base hit.
**Note: Ben Davis is a family friend (we attend the same Super Bowl party) and if he never catches another big league game I'll always remember how he broke up Schilling's perfect game and how Schilling wined about it afterwards. Davis represented the tying run, Curt! We're playing baseball here! Strap on a set!