Atlanta Journal-Constitution columnist Terrence Moore just doesn't get it. Today, Moore writes that if the Braves are unable to keep CF Andruw Jones, they should sign Twins CF Torii Hunter.
From the AJC:
Ideally, Andruw Jones stays with the Braves. Not only after this season as a free agent, but forever. Still, if he decides to bolt to the highest bidder with his mighty bat and magic glove, his replacement makes too much sense.

Torii Hunter.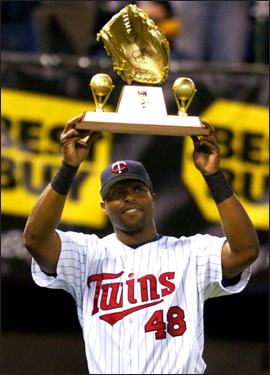 Earth to Terrence: the Braves aren't going to sign Hunter.
This is not a complicated formula. The Braves won't resign Jones because he's too expensive. He's likely to command upwards of $17 million per year on the open market.
So why in the world does Howard think the Braves will pay big bucks (maybe as much as $15 million per) to sign Hunter?
Even Hunter sounded surprised that somebody would suggest he might end up in Atlanta:
"Me, playing in Atlanta?" said Hunter, with wide eyes, during a chat last week before a game involving his Minnesota Twins in Anaheim. He laughed, saying, "Kind of getting ahead of things with that thought…."
If and when the Braves lose Jones, they'll replace him with a prospect or with an affordable player from another team. The same way they replaced Rafael Furcal with Edgar Renteria. The same way they replaced Adam LaRoche with Scott Thorman. The same way they replaced Marcus Giles with Kelly Johnson. That's how the Braves do business.
You should know that, Terrence.