There are three inevitabilities in life: death, taxes, and an unsatisfactory roster of MLB All-Stars. Sure, it may be trite to even bother blogging about such a clichéd topic. But this year, there seems to be a new reason to be unhappy – Closers. 
NL Manager Tony LaRussa has decided to carry six Closers out of the eleven slots he made available to pitchers, having tabbed Trevor Hoffman, Billy Wagner, Brian Fuentes, Francisco Cordero, Jose Valverde and Takashi Saito. In previous years, the majority of pitchers named to be All-Stars have been Starters and generally speaking, each team would carry four or five relievers.  
Has this been a banner year for Closers in the NL?  Did these six pitchers really warrant increasing the number of relief pitchers from 4 in 2006 to 6 this year? Or have the NL Starting Pitchers been so terrible that only five among them could be considered All-Stars?  
Out of the six Closers on the NL roster, you could at least try to make a case (with varying degrees of success) for five of them – and none of their last names end in "uentes". In an ironic twist, Brian Fuentes of  Colorado was deposed of his Closer role the very same day he was named an All Star for the third time in his career. To be fair, you could easily make the case that this is simply poor timing. Fuentes has allowed eight earned runs over his last four outings (during which he only managed to record a total of 7 outs). Not only is this true, he was tagged with a blown save AND a loss in each of these four outings. Brutal.
On the Starting Pitchers front, the easy call for inclusion is Brad Penny. The criminally underappreciated Jake Peavy is certainly worthy, and you figure that Smoltzie's resume and worthy numbers thus far in 2007 made him all but a lock.   
But there are some notable snubs among the NL pitching corps this year, starting with Brandon Webb. The Diamondback with the devastating sinker is a curious omission given that he is on pace to record over 200 Ks and sports a sparkling 3.05 ERA pitching in the bandbox that is Chase Field (aka the B.O.B.). Other missing notables are Derek Lowe, Chris Young, Ian Snell, and – dare I say it – John Maine of the New York Mets.
Compare these four snubs with say, Cole Hamels, who was selected.  While it's true that Hamels has won 9 already, so has Maine – and Maine's ERA is over a full run lower than Hamels. It's incredibly peculiar. In fact, among NL pitchers who have thrown at least 80 innings this year, Hamels' 3.87 ERA doesn't even crack the top 20. While it's true that Hamels has put up these numbers in a hitter's park while Maine's blemishes are covered by the expanses of Shea Stadium, but if we're rewarding Hamels for this, what about Webb? 
It simply is not the case that NL starting pitchers were undeserving. In fact, I feel that this has been a very strong year for the top arms, as 22 starters are currently sporting an ERA under 4.  
Clearly, LaRussa has constructed a pitching staff that more closely mirrors a real National League team – eleven pitchers, five starters. He chose six relievers so he could manage as if this were a real game. Deserving pitchers be damned. LaRussa wants to win and he wants home field advantage. Then it's a shame his Cardinals are 8 games under .500. 
Other Notable Snubs: 
Jimmy Rollins (PHI), Hanley Ramirez (FLA), Edgar Renteria (ATL) 
Shortstop in the National League is a hotbed of talent. Starting SS Jose Reyes is on pace to steal over 80 bases, rack up over 200 hits, and is currently getting on base at a .399 clip, a feat unfathomable for Reyes only two years ago. The Brewers' J.J. Hardy has been in the early discussions for NL MVP, coming out of virtually nowhere to enter the top-5 in homeruns to go along with 51 RBIs. But his numbers in June were certainly unimpressive, hitting a mere .233 AVG with a .327 OBP and .384 SLG. Not quite All Star status. Rollins, Ramirez, and Renteria were all better candidates if you wanted to select guys who you knew were the best. Besides, LaRussa could find spots for Freddy Sanchez and Aaron Rowand but couldn't put in one of these SS? That's downright criminal (NOTE: Yes, I know Sanchez is Pittsburgh's lone rep. Which is another reason why I find Ian Snell's omission puzzling). 
Orlando Cabrera (ANA) 
What's up with omitting deserving shortstops? As of this writing, Cabrera and Jeter are neck-and-neck in terms of numbers, having hit the same number of extra-base-hits (29 a piece), same number of runs scored (53) and are a mere .001 apart on batting average (Jeter has the edge with .338). But Cabrera has nine more RBIs, more steals (at a much better success rate), and thirteen fewer strikeouts in more at-bats. How does Michael Young get the nod over Cabrera?  
Kevin Youkilis (BOS)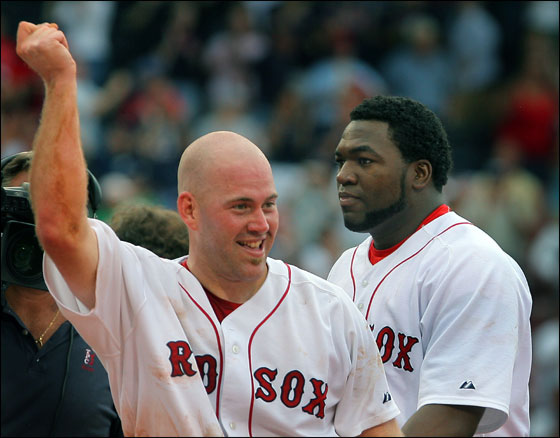 Sorry. I'm dry heaving as I write this. But did you know that Youk is currently in the top-10 in the AL in OPS? Did you know that he's tied for 10th in AL Win Shares – more than any other Red Sox? While it's true that his power numbers don't jump out at you, who would you say is having the better year – Youk or Manny Ramirez? With Mark Teixeira injured, Justin Morneau's the only true first baseman on the roster. Youk could have been the second.
And of course, let us know who you think got the screw treatment in the comments page!