I hate writing this on the heels of Coley's recent post about the fan-friendly seating at Turner Field.
Thanks to my brother's generosity, I've been going to Shea Stadium this year on the Saturday Ticket Plan, where the purchase entitles you to keep the same seat all season for every Saturday home game. It's a pretty fair deal considering that if each game were to be purchased individually, the prices continually vary based upon who they're playing.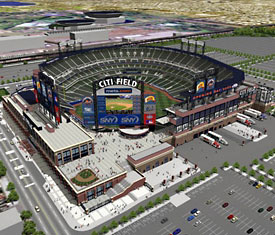 Due to this relatively frequent sojourn to Flushing, Queens, I've been able to see the progress of the construction for Citi Field, which will be the new home of the Mets starting the 2009 season. As I come out of the Willets Point subway stop on the Number 7 line each time, the new stadium's infrastructure is the first thing I see, since it stands literally right next to Shea beyond the centerfield wall. It's a pretty exciting thing for us fans, seeing as even our home-team biases can't quite disguise our feelings for the lackluster facilities of Shea (it's our piece of crap, but a piece of crap nonetheless).
But along with this excitement also comes a dose of reality. We Mets fans know the deal. Citi Field will have 42,000 seats, which is basically 3/4 of the current capacity at Shea of 55,000. With the team's success over the past couple of seasons come the bandwagon jumpers armed with more dispensable income than I or millions of other New Yorkers could ever have. Do the math.
Newsday's Wallace Matthews tackles this very issue in his latest article. He talks to an elderly fan named Henry Goldman, who along with his wife have attended games at Shea for decades and they currently enjoy a similar ticket plan as I do. Problem is, the Mets are yet to assure the fans that affordable ticket plans such as these will even be available at Citi Field.
Matthews writes:
Henry Goldman's fear stems from the stated policy of the Mets ticket agents stationed throughout Shea Stadium that the partial season ticket plan he and his wife have enjoyed for a quarter-century will no longer be available at Citi Field. "Being senior citizens, we can't afford to go to every game," he said. "Weekends are our time to go. If we can't get that plan anymore, we're finished. We won't be able to go."
What it basically comes down to is that as of this writing, the Mets have not announced their intention to create ticket plans aside from full season tickets. It's either buy a seat for the full season or fight for individual tickets, which will no doubt affect the ability of many fans to see the Mets in person.
I know that it seems like I and people like Goldman are dramatizing the issue. But do consider the fact that so far in 2007, the Mets have averaged over 44,000 fans per game, which is already 2,000 more people than Citi Field will accommodate. When the new stadium opens, the interest generated by the novelty will create a tougher competition for the tickets themselves. The Mets can hike up the price of tickets quite a bit before they will find a lack of interested parties. As if that were not enough, NY State legislature has made scalping legal, which will no doubt exacerbate the issue.
I am not so naive as to make this out to be armageddon, or to paint devil horns on owner Fred Wilpon's picture whenever I see it. I understand that this is a business and that in this multimedia age, there are many options out there where I can continue to follow my team even if I may not be able to attend the games as often as I would like. The Mets have a business plan to increase revenue, which I'd like to think will improve the quality of players on the field.
It's just a far cry from the baseball I loved as a Little Leaguer, I suppose.