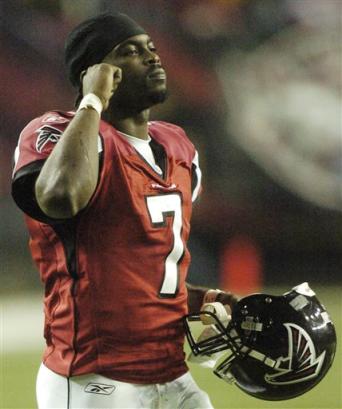 There have been some great minor league promotions over the years. The Charleston Riverdogs hosted "Nobody Night", where they locked fans out of the stadium until the fifth inning. The Altoona Curve hosted "Awful Night", which featured music by Milli Vanilli and William Shatner. And the Nashua Pride celebrated the 32nd anniversary of Watergate with a Richard Nixon bobblehead night.
But for every great minor league promotion there is one that just plain blows. And so it is that the Long Beach Armada — the same team that gave Jose Canseco his shot at pitching — bring you "Animal Awareness Day," which doesn't sound so bad, until you read the fine print.
From the AJC:
A California baseball team is offering free tickets to its game Sunday to any fan who sacrifices a Michael Vick jersey or T-shirt to the burn pile.

"Autographed memorabilia might get you a box seat," said Steve Bash, general manager of the Long Beach Armada, a minor league team in the independent Golden Baseball League, near Los Angeles. "We're probably going to throw them in a pit and burn them up and put it on YouTube."
Now, lest you think the Armada is prematurely judging Vick, who has yet to be convicted of anything, Bash says that "neither the team nor the league is judging Vick guilty but just using the federal indictment to bring attention to the issue of animal cruelty."
See, this is a non-judgmental burning. In fact, the Armada plan on inviting Vick to the game. I bet he'll be thrilled!
Some people might argue that the Armada's promotion is making light of a very serious situation. Or that the team is simply using the NFL scandal to draw attention to itself, rather than to promote a worthwhile issue. But not me. As far as I'm concerned, nothing says family fun like "angry mob burning things." I can't wait to get my Vick jersey out of the closet, douse it in kerosene and throw it on the flaming pile. You know, because I love animals.