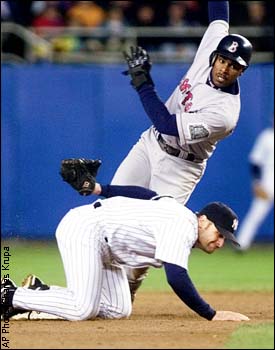 On a night when Bobby Cox set the major league record for most ejections in a career, Jose Offerman actually managed to one-up him with an ejection of his own. By charging the mound. With a bat. Hitting both the opposing pitcher and catcher. And getting arrested.
After finding himself out of a job in MLB following the 2005 season, Offerman began playing in the independent Atlantic League and joined the Long Island Ducks this year. But last night, as the Ducks played visitors to the Bridgeport Bluefish, Offerman turned himself into the unwanted guest  after he was hit in the leg by a pitch from Matt Beech. Perhaps considering it to be a dangerous retaliation for a homerun he had hit in the first inning, Offerman snapped and ran towards Beech with a bat in hand, ultimately striking Beech in the hand and Bridgeport catcher John Nathans (I'm assuming accidentally)  in the head.
Needless to say, Offerman wasn't allowed to stay in the game after that. Adding insult to his injury, the pitcher Beech was ejected as well despite the bat to the hand along with Bridgeport manager and former major leaguer Tommy John. But it was Offerman who was arrested by Bridgeport police for the incident. He posted bond soon after and there is still no word on the physical conditions of either Beech or Nathans.
Now I love a good mound brawl as much as the next guy. Some of my favorite moments in baseball include Nolan Ryan putting Robin Ventura in a headlock, and of course, who could forget the Chan Ho Park dropkick on Tim Belcher. But dude, if you're going to charge the mound, leave your bat. It's the gentlemanly thing to do.