Although we never quite intended to make posts about minor league promotions into a series here on Umpbump, it's sure looking like the topic warrants one (You can view previous posts here and here).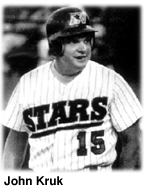 This time, we were intrigued by "John Kruk Bobblehead Night" brought to you by the Arizona Diamondbacks' Triple-A affiliate, the Las Vegas 51s. The first 2,500 fans in attendance at tomorrow night's game will receive these dolls of the former Phillies first baseman who played in Vegas (then known as the Las Vegas Stars) from 1984-1986 in his slimmer days (actually, according to the picture to the right, maybe not).
But I'm not exactly sure that a bobblehead is the best way to honor the Krukker. How about  a "NutriSystem Eating Contest Night" instead?