Believe it or not, the wives of MLB players do not lobby too hard for induction into Umpbump's Hot Baseball Wives Hall of Fame. We're not too sure why this is, but we suspect it's because baseball wives are without exception some of the most humble folks you'll meet.
But if a baseball wife or an ex-baseball wife — say Jessica Canseco, for argument's sake — were to push for induction, the conversation would probably go something like this:
Jessica Canseco: If I'm a hot baseball wife and I divorce my baseball playing husband, does that disqualify me from induction into the HBW Hall of Fame?
Umpbump: Heck no.
JC: What if I get re-married to a man who doesn't play baseball?
Umpbump: All that matters is that you were once married to a ballplayer.
JC: Well then what about me? What are you waiting for?
Umpbump: We have no idea. Sorry.
That's right folks, it's time to toast Jessica Canseco as the Hot Baseball [ex]Wife that she is. Canseco, you've probably guessed by now, is the former wife of roided up slugger Jose Canseco. She's also a former Playboy model.
But that was then. Jessica was a nineteen year-old Hooters trainee when she met Jose. Today she is a best-selling author and a successful aesthetician and image consultant in Beverly Hills. And she's learned a lot about life and love.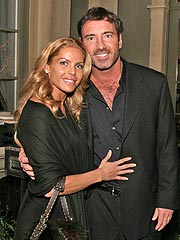 Canseco now realizes that big muslces aren't important. It's what's inside that matters most. And in that spirit, Canseco has found herself a new man. He's sensitive. He's caring. He's the plastic surgeon from ABC's Extreme Makeover!
(PS. Say what you will about Garth Fisher, Canseco's new husband. But the man was previously married to Brooke Burke. So he must be doing something right.)
As for Canseco, she's got a great career, a daughter, a new marriage and a lifetime of free plastic surgery to look forward to. Plus, she's the newest Hot Baseball Wife.
Not too shabby, if you ask me.