As Sarah pointed out earlier, the CY Young races this year are pretty lame. So I think I'll spend some time tackling a far more hotly contested topic: was Matsuzaka worth it?
Before we start talking about Matsuzaka, let's make a few things clear. First, his contract is for six years and $52 million. But the Red Sox paid $51 million for the right to negotiate with Matsuzaka. And you can't just ignore that posting fee. So for the purposes of this conversation, we're going to treat Mastsuzaka like a $103 million player — which is what he is, as far as the Sox are concerned.
Also, I know that people will argue that the Red Sox were willing to pay $51 million to negotiate with Matsuzaka, because they knew that signing the phenom would open up all sorts of previously unexplored marketing opportunities in Japan. And that's a legit argument. But this isn't a sports business blog and I wouldn't know how to begin measuring Matsuzaka's economic impact on the Red Sox. So we're just going to be talking about Matsuzaka the pitcher, not the brand. We clear? Super.
Now let's get down to it.
The question of Matsuzaka's worth is really a two-parter: 1. Did he earn his salary this season? And 2. Was signing Dice-K a good long-term investment?
Let's start by trying to answer the first part (which is much, much easier). The Red Sox are paying approximately $17 million a season over six years for Matsuzaka. That makes him one of the highest paid pitchers in baseball, in line with guys like Pettitte, Colon, Clemens and Zito.
Does Matsuzaka pitch like one of baseball's elite pitchers?
He didn't this season. This year, Matsuzaka was 15-12 with an ERA of 4.40, which was the 43rd best in baseball among pitchers who pitched a minimum of 180 innings. In other words, he was thoroughly mediocre.
Some people will tell you Matsuzaka was unlucky this season. And of course, there's some truth to that. But by and large, Matsuzaka had it made. He was backed by the league's second best offense and the league's best bullpen.
Hey, the numbers don't lie. Matsuzaka had good run support. His teammates scored 5.72 runs per game that he started. Wakefield got about the same — 5.76. Beckett got more — 6.59.
Compare that to poor Barry Zito, who only got 4.44 runs per game. Or Brandon Webb, who will come in second in the NL Cy Young voting, and only got 4.38.
Then there's John Lackey, who is getting no respect in the Cy Young voting, despite his 19 wins and league leading 3.01 ERA. He got only 4.86 runs of support on average.
So, it's kind of a stretch to call Matsuzaka unlucky.
He was just, you know, really average.
Here's another number: Matsuzaka tied for 39th in the majors in number of quality starts with 18. Jake Peavy and Dan Haren had the most with 28.
Average, average, average.
Ok, that's enough piling on Matsuzaka for now. Because, while he failed to pitch at an elite level in 2007, that doesn't mean Boston was wrong to sign him. Let's be fair to Theo Espstein. It's not like there were a ton of options last offseason for a team in the market for a top of the line starter.
In fact, let's look at how Matsuzaka faired compared to some of the other free agents who were available.
Gil Meche He finished 9-13, but he pitched for the Royals. For a real team he would have had 15 wins. His ERA was a respectable 3.67.
Barry Zito Slow start. Little run support. Big check — $10 million this year, $126 million over 7 years.
Adam Eaton Make the bad man go away!
Jeff Weaver He's getting $8.3 million for one year in Seattle. Showed flashes of competence, but started slow and flamed out late.
Jason Marquis 12-9 with a 4.60 ERA. Not great. Probably not worth the three years and $21 million he's getting.
Ted Lilly 15-8 with a 3.83 ERA and a 1.13 WHIP. He's getting $40 million over 4 years. So far looks like money well spent.
Jeff Suppan 4 years and $42 million. 12-12 with a 4.62 ERA? Not good.
Jason Schmidt Was hurt almost all year. Shocker.
Looks like the Sox might have been better off going after guys like Meche or Lilly, though they dodged a bullet avoiding Zito and Schmidt. And even though he's a lot more expensive, Matsuzaka was probably a better investment than both Suppan and Marquis.
Theo should give himself a pat on the back for landing one of last offseason's better starting pitchers (though he shouldn't get too excited — there's still that Julio Lugo signing to discuss).
Was Matsuzaka worth his $17 million in 2007? No, not quite. But he certainly wasn't the most overpaid player in the league, or even in Boston. And he was a guy who ate up innings and filled seats. So, while he wasn't worth $17 million, he was still valuable.
Now what about the long term? Will the Matsuzaka signing work out in the end?
Of course, no one knows the answer to that question. Really, it'll come down to whether Dice-K is the exception or the rule. Traditionally, Japanese pitchers who make the jump to the majors enjoy strong debuts, but fade in their second and third seasons (see: Nomo, Byung Hyun Kim). Will Matsuzaka continue that trend? If so, his signing will go down as a major bummer.
But there's plenty of reason to hope.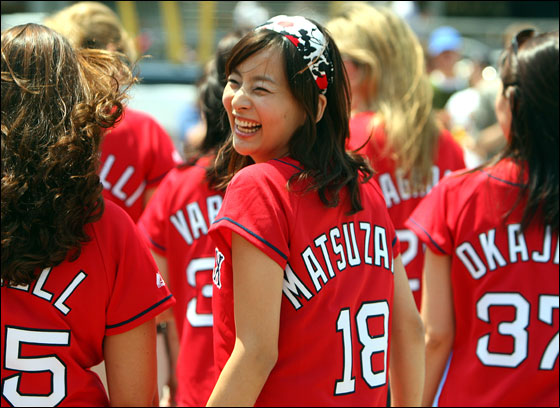 Clearly, Matsuzaka has nasty stuff. He was eighth in the majors in strikeouts, which doesn't happen by accident.
And there's something else worth mentioning. Boston is a tough town to play in. Not everybody can do it (see:Edgar Renteria). Matsuzaka should get a little extra credit for succeeding in such a tough environment.
Unfortunately, sometimes even Matsuzaka doesn't know where his pitches are going, as evidenced by his 80 walks, which was 12th most in the bigs. Matsuzaka's longterm success will hinge on whether or not he can cut down his number of walks. If he issues fewer bases on balls, he can be an ace. If he doesn't, he'll just be a glorified Daniel Cabrera, with a much bigger contract.
But I'm betting on Matsuzaka to justify his contract and the big posting fee. He's got big game pitcher written all over him. This season, he always seemed to save his best stuff for when he most needed it. And that's what winners do.
Sure, I know that's not as compelling as statistics, but what can I say? He's only got one year under his belt and that's just too small a sample size.
Time will tell.