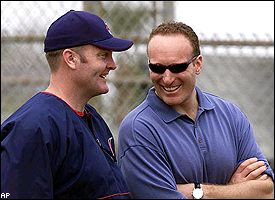 I've noticed something over the last few evenings. The broadcasters for the ALCS series keep pronouncing Mark Shapiro's last name sha-PIE-ro, with a long "i". This can only mean one of two things: either Joe Buck and Tim McCarver are botching Shapiro's name, or that actually is how Shapiro pronounces his name.
So I looked it up and, sure enough, Wikipedia says his name is pronounced: "m?rk ??p?a?ro".
Now, I'm no expert on these things, but isn't it usually pronounced "sha-PEE-ro?
I looked through the list of other Shapiros who have entries on Wikipedia and there was no pronunciation key for the dozen or so I clicked on. I have to believe that's because they pronounce their names the traditional way.
I don't want to make a big deal out of this. It's not like this is a Brett Favre situation or anything like that (incidentally, I've met members of Brett's extended family and they pronounce it how it's spelled). But what's with the nontraditional pronunciation, Mark?
PS. If it's because you wanted to distinguish yourself from that other Mark Shapiro (aka the guy who brought you Cold Pizza, Playmakers, etc.), I can respect that.