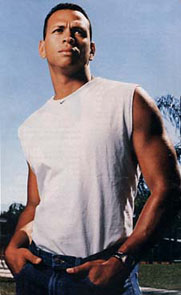 As I've written on this site before, I am actually pretty positive on Alex Rodriguez, feeling that the pros of having the best offfensive player in the world outweigh the cons of having to call a douchebag your teammate. So reading Nick's fun post about how the Mets are the most likely destination for A-Rod should make me all warm and fuzzy inside, shouldn't it? Because on paper, I agree with him. There obviously aren't many teams who can take on his contract so the Mets are already on a very short list of potential suitors. Add to that the unlikelihood that the Yankees would risk losing face after stating point blank that they will not bid on him in the open market, and the negative press that the Red Sox would receive if they were to show fan-favorite Mike Lowell the door after winning the World Series MVP, the list dwindles even more.
So why would it be a bad idea if the Mets went after Alex Rodriguez, knowing full well that they have a leg-up on signing him?
Well, where would they put him defensively? And what would this mean to a team that's supposedly built around their two young stars – third-baseman David Wright and shortstop Jose Reyes? Let's break it down:
Defense:
2007 was not a good defensive year for Alex Rodriguez. His fielding percentage (.965) wasn't terrible, but his Revised Zone Rating (RZR) puts him at the bottom third at the hot corner. He can get away with these numbers if he remains a third baseman for a couple more years, but I'm already bracing myself to laugh at any columnist who thinks that A-Rod can play shortstop anymore. In my view, SS is the toughest position to play defensively aside from centerfield. With the abundance of right-handed hitters in MLB, this position requires the ability to cover far too much ground far too often for a guy like A-Rod. Yes, once upon a time, he was among the better defensive shortstops. But this was four full seasons and what looks like 50lbs ago (yes, I'm exaggerating probably).  Moreover, if you look at his Revised Zone Ratings for the past four years, those numbers have been going south annually. I simply cannot see Alex Rodriguez as a shortstop anymore. So the idea of moving the superior defensive skills of Jose Reyes to 2nd base (remember, the Mets tried this before when Kaz Mastui came to the States and failed miserably) seems simply out of the question.
PR
Even for me as a Met fan, I think that the PR-push that both David Wright and Jose Reyes received was a bit much, so I can only imagine how the rest of the country felt. But the fact remains – these two young players are supposed to be the faces of the franchise. The Mets have a collection of veterans who aren't as easy to market due to their quiet demeanors (see Beltran, Carlos; Delgado, Carlos; and Alou, Moises) and thus are banking on Wright and Reyes to fill those roles. So what would this mean if A-Rod were to join them in Queens?
Back in spring training, Wright volunteered to move to 2nd base if A-Rod were Flushing-bound. And he received a good amount of criticism for this, prompting one team veteran to say ""(Wright's) the guy we need to be the leader here, not A-Rod."
Touche. And I agree. The Mets offense does not need Alex Rodriguez, and the Mets front office does not need to concentrate on scoring more runs. What they do need to think about is how to replace Tom Glavine and add to their bullpen despite a free agency pool that lacks any reliable arms. They also will probably need to find trade partners to obtain a catcher and a second-baseman. Wasting their time listening to Scott Boras is no way to get any of this done.